Listed below are the most frequently asked questions about our energy efficient building envelope packages.
---
What's included in the building package?
Our high performance building packages include: the super insulated building envelope (exterior shell) with all wall and roof cam locking panels, connecting hardware and all window and door rough openings.
Home models include; structural roof support beams and beam clip hardware and in select models a skylight with operating pole.  
An optional SIPs floor panel system is also available. 
You and your contractor then select the doors, windows, roofing, siding etc, available from a local building supplier. With a wide choice of styles and range of costs for the interior and exterior finishing, shopping locally saves money for your project and keeps shipping costs to a minimum.
---
 What is the exterior shell made of?
The shell is made of the most efficient "Structural Insulated Panels" (SIPs) available. Easy to install cam locking technology, reduces the assembly time and exposure to the elements, cutting contractor and on-site labor costs. The Backyard models can be assembled in a day and home models in two to three days.
---
What are SIPs Panels?
SIPs are high-performance building panels for walls, roof and floor systems. We use only the highest R-value polyurethane SIPs panels in our building models. Each panel is made using polyurethane foam insulation injected between two structural skins of oriented strand board (OSB) The result is a building system that is very strong, predictable, energy efficient, and cost effective. We also offer an optional SIPs floor if for example you plan to build on piers where the bottom of the floor system is exposed to the elements.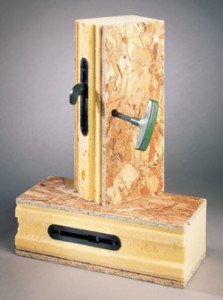 What are R-Values?
The R-value is a measure of thermal resistance used in the building and construction industry to determine the efficiency of the building shell.
All backyard models come with R-26 walls and R-40 roofs.
Home models have the option for R- 26 or R-40 walls and R-40 roof.
---
 Are the panels green?
Structural insulated panels are one of the most environmentally responsible green building systems available.  A SIPs building envelope provides the best continuous insulation, is extremely airtight, allows for better control over indoor air quality, reduces construction waste, and helps save natural resources.  Life cycle analysis has shown that SIPs homes have a tremendous positive environmental impact by reducing energy use and greenhouse gas emissions. Our polyurethane SIPs contain no harmful blowing or expanding agents and do not pose a threat to the ozone layer. The OSB (oriented strand board) used in our SIPs is SFI (Sustainable Forestry Initiative) certified, assuring that the rapid-growth trees used to make the OSB are from well-managed forests and plantations. Factory production and custom cutting of our SIPs virtually eliminate panel scrap waste at the job site.
---
How is the building assembled?
Using SIPs wall and roof panels that cam lock together the Backyard models assemble in a matter of hours and the home models in a couple days.
Panels are 4′ wide or smaller and built to the length required for each wall or roof section.
Once the floor system is complete the panels are raised to a vertical position, set over the sill plates, and connected with our cam lock system. 
Optional floor systems may be made of SIPs panels and ordered with the wall and roof panel package. 
With all panels assembled you are ready to run electrical wires through supplied chases.  The building is now assembled and ready for all exterior and interior treatments.
View New Sage Homes Building process